---


Originally known as Varley & Wolfenden the firm became Varley & Co in the mid 1890's and later became a Limited Company. At its works Cyclops Sewing Machine Works, Marley Street, Keighley, Yorkshire it produced a range of sewing machines but closed in 1918.

The Company Trade Mark portrayed a bobbin with the word Cyclops on the top and crossed needles either side and this.
---
Varley Family: Serial No. 66844 S100

It is a fiddle base Family machine, with a Daffodil scroll decal and the Royal Coat of Arms to the centre bed. The black strip on the front of the base was originally a ruler in Imperial units.

The bobbin winder shares features with a Jones Hand and the hand crank handle is wood. It has a really neat lid, see the Cases & Bases Page

The same type of machine was badged and sold through J. D. Williams, Manchester it had a centre decal similar to that on the Jones T.S. with the word Family across it.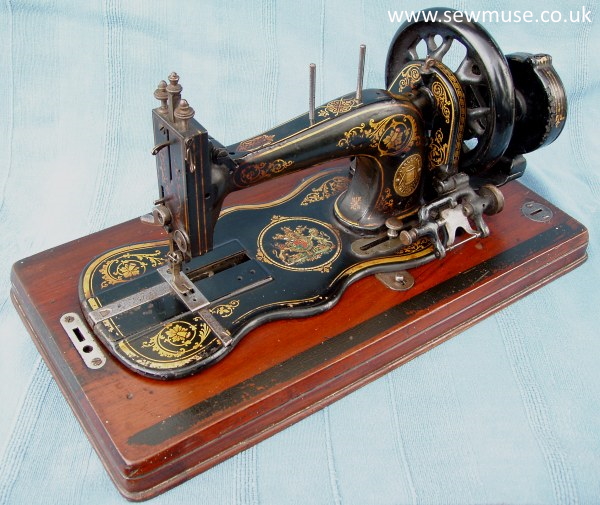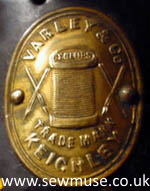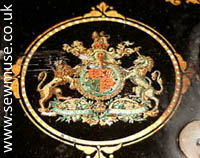 ---
Varley Medium: Serial No. 70705 F61.

Produced by Varley and Co. Keighley, Yorkshire, and sold through a retailer - Fattorini & Sons, Bradford whose name can just be made out on the arm.

This is a Medium machine but has virtually identical decals to the Family machine shown above. Although it would probably have been used by a dressmaker or tailor it could also sew leather. We think this machine would date to the 1890's.
Antonio Fattorini started business in Leeds in 1827 moving to Harrogate in 1831. In 1846 he and his sons John and Edward established a Jewellery business in Bradford. In 1897 they made the first Rugby League Challenge Cup and in 1911 the F. A. Cup.
The firm had a mail order business which was sold to Empire Stores in 1910.

The stand and case are shown on the Cases & Bases Page