Most of our machines are in reasonable condition when purchased and just need a good clean. We tend to use WD 40 wiped on with a soft cloth or paint brush and cleaned off with a soft cloth or paper towel.

But there's always that irresistible machine covered in who knows what. We use a dry paint brush to loosen the dirt and grit with a vacuum cleaner going so it isn't rubbed back into the paint work. Any loose paint work/shellac will also be sucked up, so we work slowly and carefully to minimize the amount lost.
Once the dirt and grit has been removed we use lots of WD 40, wiped off, and repeat until the machine is clean, we then apply a spray polish (Mr Sheen) and buff up. We also use WD 40 on woodwork to get rid of grease and oil, finishing off with a real wax polish.
Unplated metal we clean with fine wire wool and Autosolve, plated metal we just use Autosolve.

Different collectors use different methods, the most important rule is to test any cleaner on a small area hidden from view to check it doesn't cause any damage. Never use products containing ammonia or abrasive substances on the heads - they destroy decals and paint. Always err on the side of caution.
---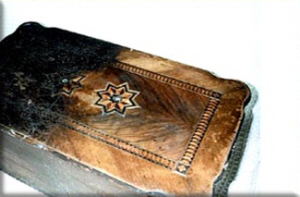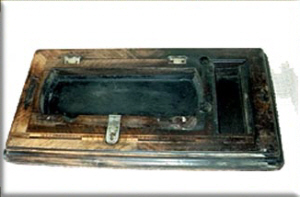 This lid is from an unknown German import, it has been covered by a thick layer of grime and stain. Dave and I were amazed to find such a beautiful inlaid pattern beneath all the muck. We still have a bit more to do as you can see!

Some of the veneer is missing in places and we will have to replace this before refinishing the case.
The base has the inlaid ruler typical of German Machines.

We use a mix of White spirit and Linseed oil combined in equal parts on soiled wood, although if the layers are as thick as on this case we use plain white spirit mixed with elbow grease and lots of patience! We also use a fine grade steel wool to apply the mixtures.
---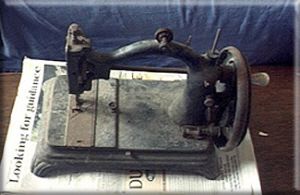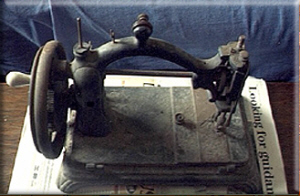 Baach & Klie - Elsa

Just look at this!! The machine has cleaned up quite nicely, more decals have survived the "farmyard" than we'd hoped for... but still not much! The bed however is far more pitted than expected. We are quite happy with the (almost) final result but we can't get the back slide plate free despite soaking it in penetrating oil, WD 40, etc & we're not brave enough (or frustrated enough) to get out the big hammer.......YET!!!
And this is what we found under all the farmyard muck!
---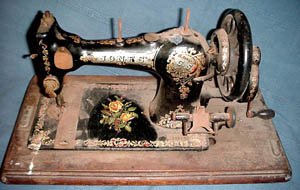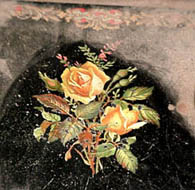 Jones C.S.

This shows the awful condition of the machine prior to restoration.
Despite the rust and grime the beautiful rose decal was found to be intact.

See how it turned out.
---
Frister & Rossmann

Sometimes you get home and wonder just what have you bought! This machine looked restorable but the base is wrong, the decals heavily worn and all the bright work rusty. Yet under the machine the mechanics are like new.
It was given a thorough clean and now just needs a replacement base, although it will always be far from perfect.

See how it looks now.