Although we do not collect toy sewing machines we do occasionally come across machines that interest us and these are shown below along with a little information about the companies that made these examples.
---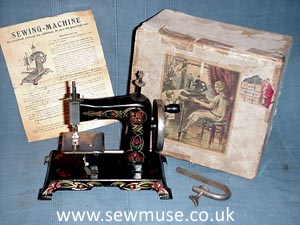 Muller 10

For many years this was our only toy machine given to Lin as a child by her Godmother. It has its original box, which is very tatty, instructions and clamp.
These toy machines were produced by F. W. Muller in Kreuzberg, Berlin. The firm operated from about 1888 to 1978. This model probably dates to the late 1930's.
---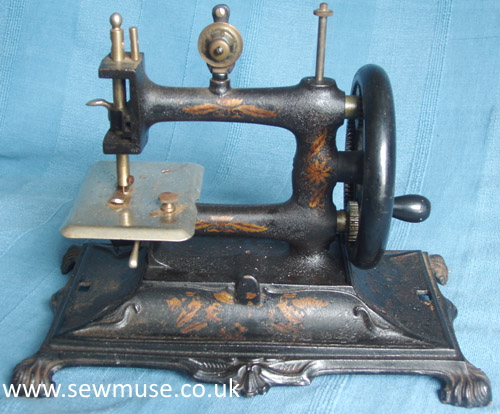 Muller 12 Serial No. 56676

This heavy weight cast iron machine is supposedly a toy however it dwarfs "The Weir" and the large base means it could actually be used for domestic sewing.
This example came from a local antique fair and needs a really good clean!
---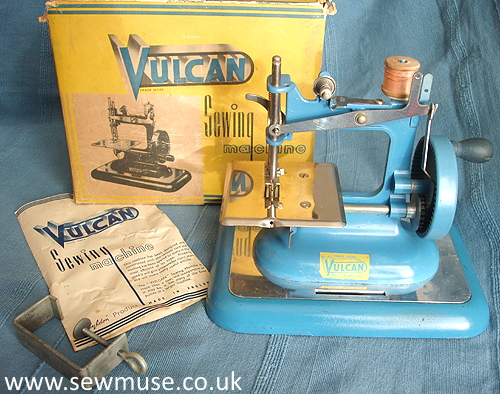 Vulcan

Vulcan Sewing Machines were produced under the Cyldon product name by Sydney S. Bird initially from premises in Enfield, Middlesex and later (c1953) at Fleets Lane, Poole, Dorset. Toy sewing machine production started prior to World War Two and ceased c1971.

The first three models produced were all simply known by the Trade Mark name of Vulcan. Later machines had a model designation added to the Vulcan name.
Available by 1957 were the Vulcan Minor (price 27/6), Junior (price 37/6) and Senior (price 49/6) these three machines all seem to have been produced at the same time. The sole distributor being L. Rees & Co. Ltd, 31 - 35 Wilson Street, London E.C.2.
Further models - the Vulcan Countess, Regal and Classic were subsequently introduced, the latter being battery powered.

This machine is simply known as the Vulcan, produced c1948 it was the first post war version of the original Vulcan machine later it was modified with spoked hand wheel and aluminium base.
It was replaced by a new model c1952, which although it used the same mechanism looks completely different.

Unusually this machine came complete with table clamp, instruction manual and original box albeit somewhat worse for wear!
When cleaning these machines care has to be taken not to damage the Vulcan label on the front of the machine as we've heard that even water will remove it.
---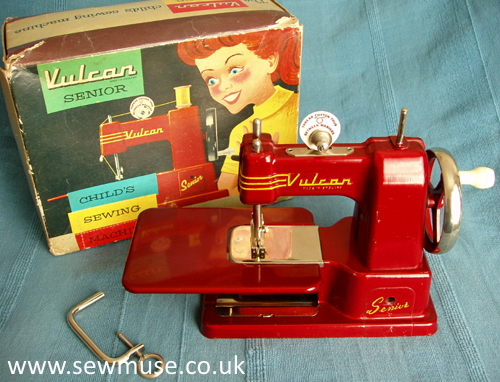 Vulcan Senior

This appears to have been the top of the range Vulcan with detatchable cloth plate to turn the machine into a free arm machine. The table clamp slots into the hole on the base which prevented damage to the paintwork.
This machine came complete with its original box and some of the other protective packaging as well as the table clamp and original wooden bobbin.
---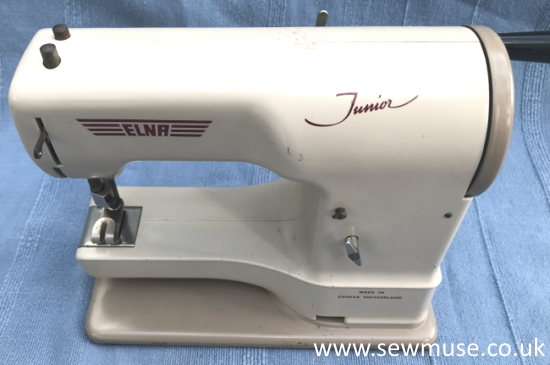 Elna Junior: Serial No. - .

The Elna Junior was a toy machine which took it's overall shape from the Elna Supermatic. Two versions existed one with a music box the other without and it was available in two tone green and two tone beige/brown

This version has the music box which plays the Blue Danube waltz. The mechanism was frozen when I bought it but WD40 worked a treat! It has a red metal carry case.

This machine does not have a serial number but other versions have a number stamped on the underside of the machine. The Elna Junior was produced from around 1956 to the early 1960's