---
The firm was established by William Borthwick Smith and James Starley after the latter had left the Coventry Machinists Company in 1871 to manufacture the Europa machine which had been patented by James Starley in the same year. The firm is believed to have continued until c1881

From serial numbers of the surviving examples we know Smith, Starley & Co. produced around 20,000 machines of various types. These included the Little Europa, Little Dorrit and the Queen of Hearts. The Europa was available in two forms, one for dressmaking the other for heavy tailoring.

The company was awarded prize medals at International Exhibitions at Lyons 1872, Vienna 1873, London 1874 and Manchester 1875
---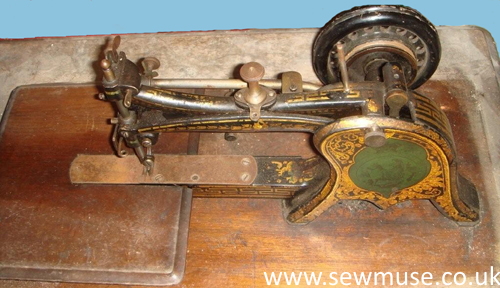 The Europa Serial No. 2727.

Manufactured by Smith, Starley & Co., St Agnes' Works, Hale Street, Coventry. This machine is awaiting conservation, the machine is in good condition although the Trade Mark on the cover plate is faded. This illustration is based on Greek mythology in which Europa - a Phoenician woman of high status is carried away by Zeus (King of the Gods) who has taken the form of a bull.
The stand and woodwork have sadly suffered since this machine was made c1873. The highly ornate stand with its central balance wheel has at sometime been repainted (badly) and the woodwork will need refinishing but this will have to be carefully done to leave some of the patination.