---
In July 1886 The Moldacot Pocket Sewing Machine Company Ltd was formed to aquire the patent rights for Great Britain and Ireland for a small sewing machine called The Moldacot. Production of the machine was sub-contracted to William Bown, 45 Brearley Street, Summer Lane, Birmingham and John Holroyd, Tomlinson Street, Manchester. There was also a German manufacturer which has yet to be identified.

The machine, although ingenious and well manufactured, was a stunning failure - it simply didn't sew particularly well. A rotary attachment was available by May 1887 but the inherent faults were never rectified and sales were poor with less than 10,000 machines (of the projected one million) being sold in the first year. By December 1887 the Moldacot Pocket Sewing Machine Co. Ltd was in liquidation.

Within weeks of the first Moldacot company being formed a second "sister" company was established as The Moldacot (Colonial & Foreign) Pocket Sewing Machine Co. Ltd this was to aquire the patent rights for Germany, France and Belgium and to take out patents in Canada, Australia and various other British Colonies.

Although these companies were two entirely separate legal entities with different Articles of Association the Board of Directors for both firms were virtually identical and they shared the same offices.

The Moldacot (Colonial & Foreign) Pocket Sewing Machine Co. seems to have faired somewhat better than its sister company, by November 1887 it reported that it had agencies in many parts of the world and had contracts with manufacturers to produce between 8,000 and 16,000 machines a month.

At some point the Moldacot (Colonial & Foreign) Pocket Sewing Machine Co changed its name to the United Sewing Machine Company Ltd - possibly after the original company went into liquidation but by November 1888 it too was in liquidation. There was a stock of at least 20,000 unsold Moldacot machines and these were still being sold off at bargain prices in December 1890.

The promoters of the two companies were Albert Douglas Moll and John Charles Cottam (Moldacot being a fusion of their names) and although they sold the patent rights they still retained Royalty rights of 6d per machine. In November 1887 they established yet another company - the Moldacot Royalties Trust (Limited) to aquire the Royalties payable by the other two companies. This company was wound up in November 1889.

Newspaper reports of 1887 claimed that Messers Moll & Cottam between them received £43,000 but that didn't include £17,500 in shares paid by the British Moldacot company for additional patent rights for the United States, India and South America. Nor did it include the substantial payment they received when the Moldacot Royalties Trust Company was floated. In todays values they received well in excess of £5.5 million.
---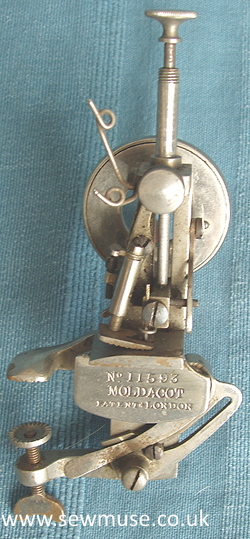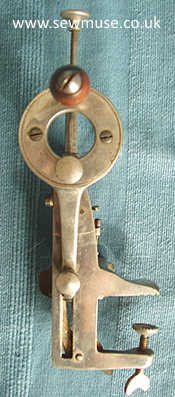 Moldacot: Serial No. 11593. This machine was made in Great Britain probably in 1886, the main body of the machine is cast brass which is then Nickel plated.

It has the "open" hand wheel, there are two other types - some have a "closed" hand wheel, exactly the same but without a hole in the centre (see below). The earliest examples have no hand wheel at all and rely on a push action to generate the motion. The machine produced a lock-stitch utilising a tiny shuttle and bobbin and would have been clamped to a table during use.
This machine came complete with its tin which carries advertising for Horrockses Calicos and has the operating instructions printed in the lid. The hand wheel has to be removed from the machine before it will fit in!
As well as black these tins came in red, blue and green. The cheapest versions came in a cardboard box, the most expensive in a leather covered one.
---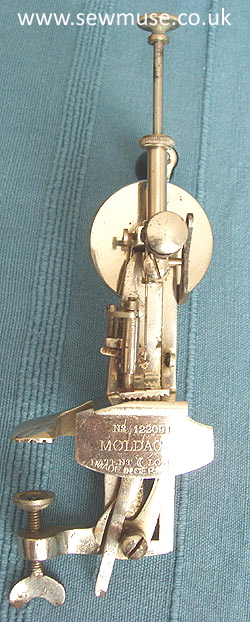 Moldacot: Serial No. 122091.

Another example of the Moldacot, this time made in Germany, however the basic design is exactly the same as the versions made in Birmingham and Manchester. This machine was made in c1887 and it has the "closed" handwheel.

The plate has been stamped with the machine's serial number, name and that it was Patented in London, this has then been over-stamped Made in Germany and so appears to be an after thought!

The Nickel plating is pitted and worn in places. It has a "closed" hand wheel (below right). This example is missing the thread guide.