---
In April 1873 Joseph Harris and John Judson had formed a partnership to manufacture sewing machines trading as the Imperial Sewing Machine Co. and in November 1873 purchased the Franklin Works, Park Road Birmingham.

The company produced a range of machines including the Imperial a Wheeler & Wilson principle machine, its own version of the Challenge which used Harris & Judsons patented shuttle movement, the Agenoria which had previously been produced by The Franklin Co. the Little Echo and the Eureka.

In July 1877 Joseph Harris sold out to the Royal Sewing Machine Co. Ltd of which he would later become a Director
---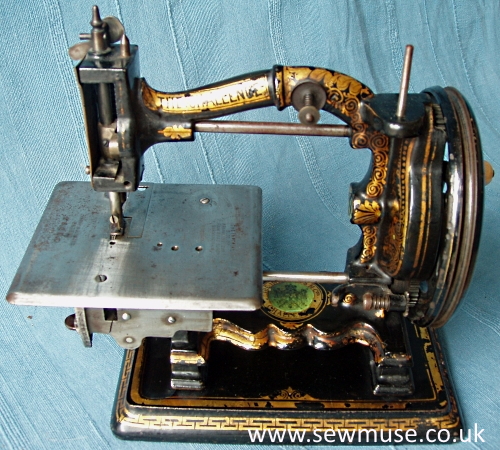 Challenge Serial No. 15660.

Made by the Imperial Sewing Machine Co., Franklin Works, Park Road, Soho, Birmingham.

This machine was made between 1874 and 1877 and is in very good condition with just a little wear to the decals.

The Company name and address is stamped on the cloth plate along with the serial number.

On the base of the machine there is a decal with a coat of arms and the words "The Imperial S M Co's Challenge" and this example has a heavy cast iron base which provided better stability.

The machine used Harris & Judsons improved shuttle mechanism and stitch length regulator which was patented in March 1874.

The needle bar cover is embossed with a Knight in armour with sword over one shoulder and gauntlet on the ground. It is a tradition that Knights challenge each other to single combat by throwing down the gauntlet.