---
The Gold Medal Sewing Machine Company, Orange, Massachusetts was established in 1860 by Johnson, Clark & Co. to manufacture sewing machines. The company introduced it's Home Shuttle machine in 1870 which was subsequently redesigned and improved.

In 1882 the firm was reorganised and became the New Home Sewing Machine Co. In 1927 the company was taken over by the Free Sewing Machine Co. who continued to use the New Home brand name but Free itself was taken over by the National Sewing Machine Co. in 1953.
---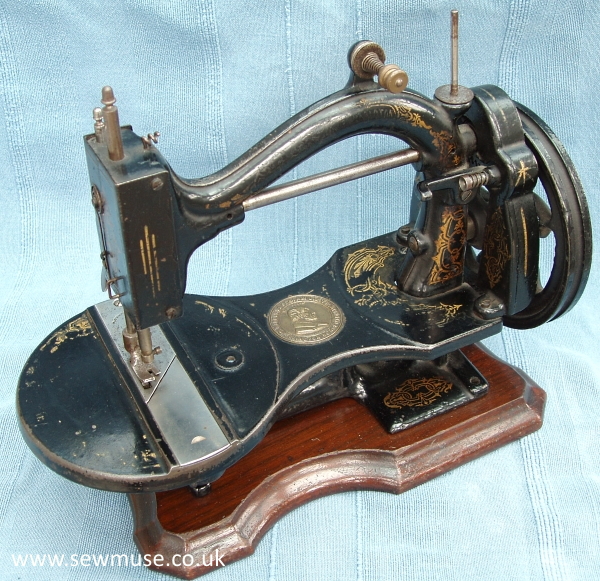 Home Shuttle: Serial No.92841.

The Home Shuttle was sold in Great Britain mainly under the name Dolly Varden and Improved Dolly Varden both having very elaborate decoration.

This example however is possibly unique as it bears the Bradbury & Co. Ltd Duke of Wellington trade mark medallion on the bed and the arm has the faint traces of the name Wellington.

It would appear that the company sold these imported American machines prior to the design and manufacture of its own Wellington machine and as a result it can be dated to a period between late June 1875 and March 1877.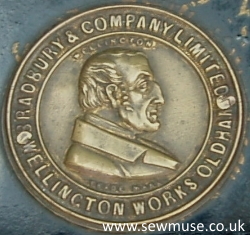 The decals are in reasonable condition and are less ornate than those on the Dolly Varden. It has retained its beautifully shaped wooden base.

The rear slideplate is stamped with a range of patents from 1850 through to 1865. The front slideplate is a replacement. The serial number for this machine is stamped on a metal disk which sits on the spool pin base.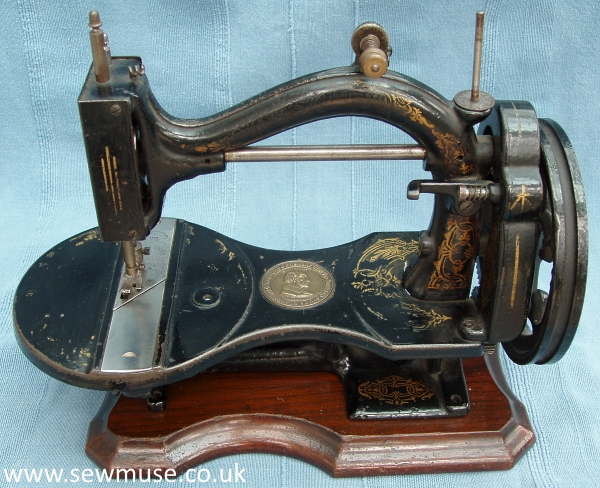 ---
Improved Home Shuttle: Serial No. 175343.

Produced c1877 this machine has the serial number stamped on the front slide plate along with R K & Co. which are the initials of the company's sole agent in Europe - Rennick, Kemsley & Co., who had offices at 4 Finsbury Circus, London.
This machine was kindly donated by Ruth & Malcolm Hicks.