---
Although the German sewing machine industry seemingly continued to produce machines that were technically out of date, new developments did take place, perhaps most importantly was the introduction of the High Arm Family machine. This machine introduced in the 1880's was designed using a transverse shuttle mechanism combined with a high arm which had first been seen on American made machines such as the Domestic

So successful was the German High Arm Family machine that several British manufacturers copied the design and even Singer eventually developed its 48K to compete with the highly decorated German machines which featured intricate multi-coloured flower designs often inlaid with Mother of Pearl. The bases of the High Arm Family machines usually have a ruler inlaid with other woods and although the cases are mainly oblong boxes different wood veneers and inlay were often used.

As these machines were exported in enormous quantities right up until the First World War they are plentiful in Great Britain, many are found labeled with a retailers or importers name or sometimes with a descriptive English name such as "Tryer".

Like most sewing machines in this country they are not particularly expensive, but like other German machines the decals and Mother of Pearl seem prone to wear, occasionally though you may find a real gem like the Collier No. 3 shown below which shows just an how highly decorative these machines were.

A peculiarity of the German sewing machine industry seems to have been the half sized machine colloquially know as Saxonia, these machines were produced both with fiddle and rectangular bases and many seem to date from the 1900's to the 1930's. These machines besides the small size often have a low arm and are typified by the ungeared hand crank.
---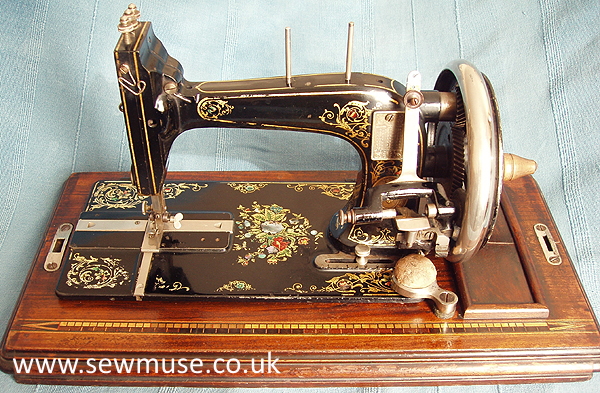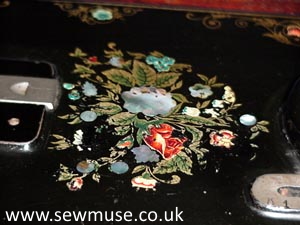 Gritzner Saxonia No. 6 H II Serial No. 1819892.

Established in 1872 by M. Gritzner the Company became incorporated in 1886. By 1902 Gritzner had produced a million machines and was Germany's largest sewing machine manufacturer. Production increased rapidly and by 1910 2 million machines had been produced. In 1897 the Company started making bicycles and then motorcycles in 1903. The Company took over Frister and Rossmann in 1925, merged with Kayser in 1931 and was finally taken over by Pfaff in 1957.
This machine was made c1907 and was designated by the company as a High Arm Saxonia hand machine with square cover. The Company Trade Mark a spider in its web is on the pillar. This machine has an ungeared hand crank with no guards or provision for guards.
The base has an inlaid ruler typical of many machines of German origin. The frame of the accessory compartment has a notch cut out in order to take the crank. The decals are largely intact and quite beautiful, incorporating Mother of Pearl flowers.
---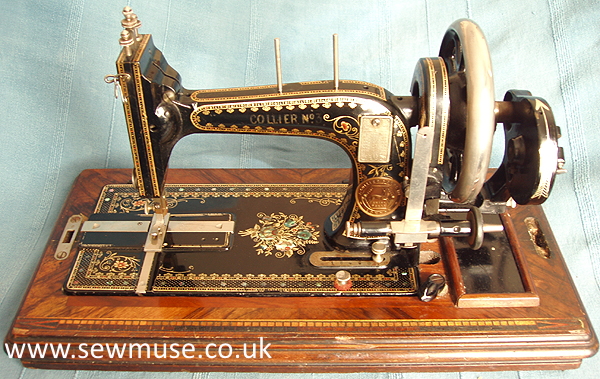 Collier No. 3: Serial No. 2164481.

This High Arm Family machine was made for J. Collier & Sons Ltd 134 to 142 Clapham Road, London, probably by Gritzner in 1910. On the pillar is the firms trade mark - a running stag with the words "swift & sure". The company name & address is stamped on the slideplate.

When we first saw this machine it was in a locked case which had been exposed to the weather and was in a tragic condition, yet when opened it revealed what we can only describe as the most beautiful machine we've come across.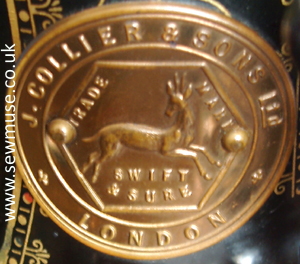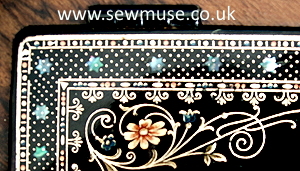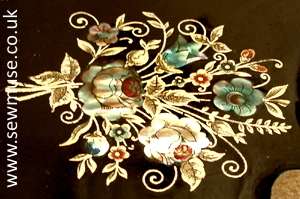 The photographs do not do the machine justice, it has tiny Mother of Pearl stars every half inch around the bed, with a gold dot pattern and blue and red flowers in scroll to the corners. This delicate pattern is however surpassed by a wonderful bouquet of roses in the centre bed, each flower head is created from Mother of Pearl, it is absolutely exquisite.
---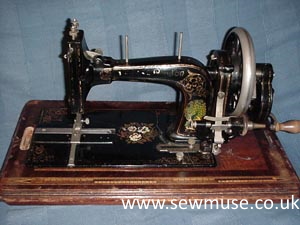 Faudels: Serial No. 659437.

Imported and badged by Faudels of London who purchased sewing machines from various German manufacturers. This particular machine is believed to have been made by Haid & Neu around 1900.

Haid and Neu was established in 1860 in Karlsruhe but by 1868 only 2000 machines had been made. This had increased ten fold by 1872 and 1881 saw the firms 100,000th machine. By 1898 half a million machines had been made. The million was reached in 1904 and two million machines had been made by 1921. The Company survived the Second World War but in 1958 was taken over by Singer.

The machine itself has seen happier times. It has been dropped at some stage, but it has a beautiful Peacock decal which was Fauldels trade mark and Mother of Pearl inlay to the centre bed. There is a feeling of quality about this machine.
---