---
This machine was manufactured by the Domestic Sewing Machine Company, Orange, Massachusetts which was established in 1864 by William A. Mack & N.S.C. Perkins in Norwalk Ohio.

In 1869 the firm which had traded as W. A. Mack & Co. became the Domestic Sewing Machine Co. and in 1875 it aquired the Grover & Baker Sewing Machine Co. In 1925 the company was purchased by the White Sewing Machine Co.

Domestic machines were wholesaled in Great Britain by Gordon & Gotch , 15 Bride Street, Ludgate Circus, London. This partnership was started in the 1850's in Melbourne, Australia by John S. Gotch and Alexander Gordon. Although Gordon left the partnership in 1859 the business continued and flourished developing a network international branches which gave it a large distribution network.
---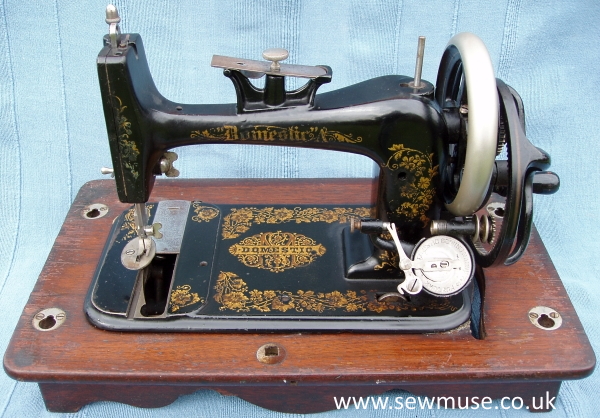 Domestic 'A': Serial No. unknown.

In the 1880's the Domestic Sewing Machine Co. produced two hand machines - the Little Domestic and The Reliable which in mid 1885 were renamed as the Domestic 'A' and Domestic 'B' respectively.

In 1887 the base of the Domestic 'A' was changed to provide a larger, lower, more ornamental base adapted to sink into a treadle stand.
Unfortunately the front slide plate which carried the machines serial number is missing but this machine probably dates to c1888 by which time the company had sold over one million machines.

The photo right shows the unusual geared hand crank with its internal toothed rim which also drove the bobbin winder.