---
The American Button Hole, Overseaming and Sewing Machine Company, erected its factory on Chestnut Street, Philadelphia in 1862. The Company exhibited at the Paris International Exhibition in 1867 and in 1868 the Company was selling machines through Newton Wilson, 144 High Holbourn, London. By 1877 the Company had opened its own offices at 87 Queen Victoria Street London.

The New American machine was introduced in 1873 as two models the No. 1 Light Family Machine and the No. 2 Manufacturing Machine for family, tailoring and leather work. Both models were available with various forms of cabinet work ranging from the Plain Table to the top of the range Full Cabinet in Black Walnut with Curled Walnut or Rosewood panels.

In the 1880's the No. 7 and No. 8 sewing machines were introduced. The No. 8 being a hand-crank version which was available with either a cast iron or Walnut base.

The company diversified into the manufacture of bicycles and the last documentary evidence for the company we have seen dates to 1898.
---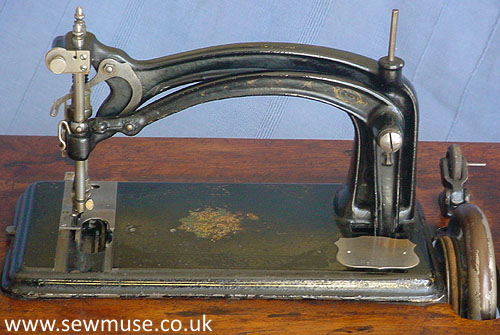 New American No. 1 Serial No. 132341.

This example, the American No. 1 dates to 1877. On the bed of the machine, at the base of the pillar, is a shield listing 19 Patent dates running from Nov 12 1850 through to May 27 1873.

The head is worn with little gilt remaining although the Japanning is still in good condition. Sadly the shuttle, bobbin and slide plate had all been lost before we were able to buy this machine.

The very elegant treadle stand has 'AMERICAN' cast into both sides and a single drawer with the letter A embossed on the drawer pull.

The bentwood cover is unusual, the ends and lower edges are of wood but the remainder is made from a curved piece of metal painted to simulate wood.

New American Manual c1880