---
Gustav Winselmann & Herman Köhler started manufacturing sewing machines in Altenberg, Germany in 1877 having seperated from L.O. Dietrich.

In 1892 Winselmann formed his own company and by 1913 had produced a one million sewing machines of various types. In 1902 the company became a limited liability company (GmbH) and used the brand name Titan which appears on many of its machines. The firm closed at the end of the Second World War.
---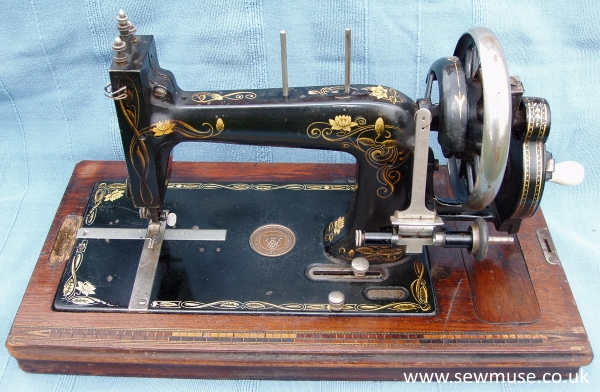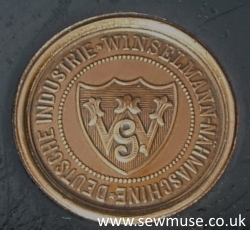 Winselmann: Serial No. 823432.

This is an example of the company's High Arm Family machine probably produced in 1900.

There is a central boss with the company details round the outside in the centre of which is a shield with W G. which is reminiscent of the Wheeler & Wilson machine boss.

Stamped on the left hand slide plate is Gustav Winselmann Nahmaschine Fabrik Altenburg
There is no name on the arm of the machine. The decals appear to be of water lillies and are very much in the Art Nouveau style. The base has an inlaid ruler with accessory compartment.

The machine uses a hybrid shuttle and the bobbin winder has a roller at the back.