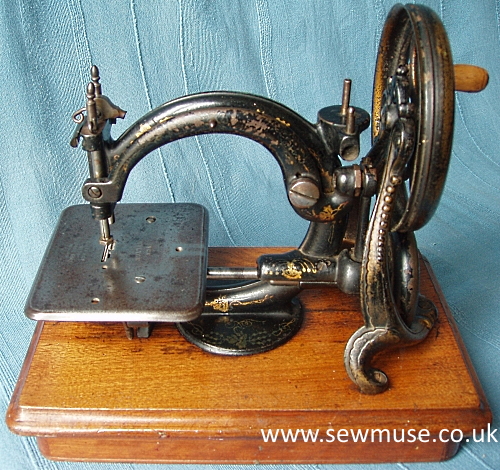 The Wilton Serial No. 11650.

The Willcox & Gibbs chain stitch machine was extremely popular and as such it was copied by a number of British and German manufactuers including Bradbury & Co, Britannia Sewing Machine Co, Pollack, Schmidt & Co., and Frister & Rossmann although the latter had automatic tension.
This example has no makers name or mark but was sold as The Wilton by London sewing machine merchants Smith & Co. which was established in 1863 and which had premises at 30 Edgeware Road, Hyde Park and 4 Charles Street, Soho, London in the mid 1870's and early 1880's.

Fitted with the European style hand wheel its highly ornate support gantry is finished in gold paint which appears to be original. The cloth plate is stamped "Smith & Co, 30 Edgeware Road, London" and the machines serial number is stamped in a similar position to that of Willcox & Gibbs machines. Sadly the Glass Tension device for this machine is missing.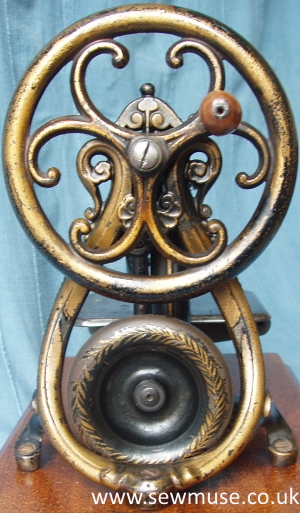 ---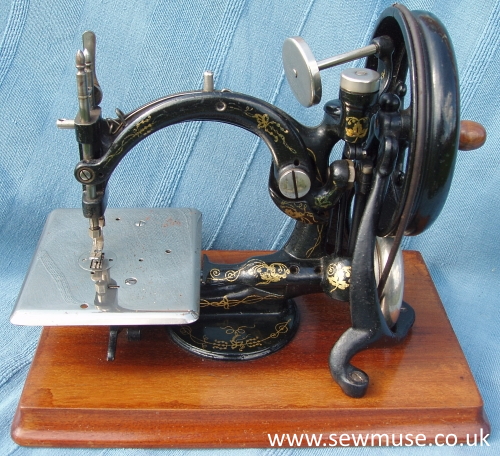 Willcox & Gibbs Principle Serial No. 2571.

Another example of a Willcox & Gibbs principle machine, this time with automatic tension. The machine has no makers name or mark but was sold by Weaver & Son, 38 Broad Street , Bath.

The firm originally traded as Weaver & Sons , Bed & Matteress Makers but the partnership between George Weaver (Snr) and his sons Benjamin & George (Jr) dissolved in January 1878.

George (Snr) and Benjamin continued in business as Bed & Matteress Makers but also as sewing machine agents trading as The Sewing Machine Exchange. The firm was still listed in the Somerset Trade Directory of 1895.