---
Joseph Wertheim started producing sewing machines around 1868 in Frankfurt. These machines were initially on the Wheeler & Wilson Principle but the company subsequently started producing machines styled on the Singer New Family.

Although not as sucessful as some other German manufacturers the company had a good export trade particularly to Australia and also Spain where the company established a factory in Barcelona initially to assemble parts supplied from Germany this later became a full production plant and in March 1920 Rapida SA was formed.

The German factory closed in the 1930's when the Wertheim family moved to Spain in the hope of avoiding political unrest which was not to be with the onset of the Spanish Civil War. Rapida SA continued producing sewing machines until c1970

In Great Britain the company's transverse shuttle machines appear to be have sold under the brand name Superba without the company's sitting Gnome with Hammer trademark but fortunately Wertheim machines have some unusual characteristics which makes them relatively easy to identify.
---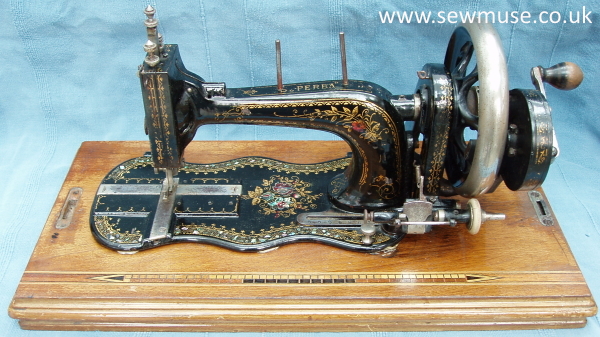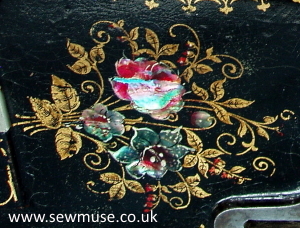 Wertheim Superba Model B: Serial No.S6606861

This is a rare example of Wertheim's improved Singer New Family produced in the 1880's/1890's.

Although there is no company trademark it can easily be identified as a Wertheim

The company's transverse shuttle machines all appear to have serial numbers starting S6. Thus rather than the serial number indicating six million plus machines had been produced infact it was six hundred thousand!
The machine is in good condition with the decals largely intact. The bed is inlaid with Mother of Pearl forming roses in the centre and chips along the edges.

The brightwork has been sparingly cleaned but on the left hand slideplate there is an engraving of a needle and syst 182. Note the width of the inspection plate running at right angles to the slideplates.

The base is in good condition with inlaid ruler.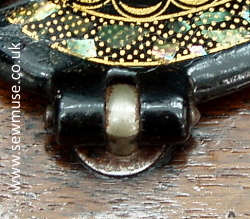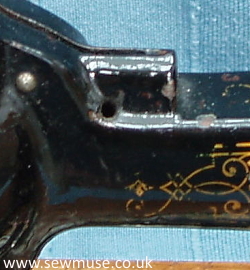 The machine has a couple of unusual features. Firstly the hinges are formed by lugs cast with the base and the top of the arm has a cast bulge for part of the mechanism.
---
Wertheim Superba: Serial No.S6850845.

This sad looking machine has no makers markings but was definitely made by Wertheim

It is a High Arm Family machine with rectangular bed inset with Mother of Pearl chips.