---


Vickers Ltd famous for armament production started producing sewing machines on a small scale during World War One at Hackney Wick, London employing interned German civilians who were paid the standard British wages for this type of work. The machines produced were improved versions of the Frister & Rossman Family V.S. and early advertisments (April 1918) actually use images of Frister & Rossman machines with the name removed.

At the end of World War One production was transferred to the company's Crayford Works in Kent and continued until 1951 albeit with a break during World War Two. Vickers machines were available as hand, treadle and electric models all available with a variety of cabinet styles each of which had its own name. There was a bookcase table model called the Oxford which took 30 to 40 books and could be used as a writing desk. The Norfolk, a treadle but with completely enclosed dust proof flywheel and shelves. The Cumberland with a bow fronted cabinet concealing the treadle mechanism and the Devon in burr walnut with queen Anne legs and opening flap.

Vickers produced machines for Whiteley's, Queens Road, London c1934 under the brand name Universal as well as the Civil Service Service Supply Association Ltd (CSSA), 425 Strand, London under the brand name Vichand from about 1934 to December 1937. There was also the oddly named Jobro Special but I have no further details for this.

During its production the machine was improved with the most obvious external change being a new bobbin winder introduced around 1936. By December 1938 over 100,000 Vickers machines had been sold.

British Sewing Machines Ltd was established in 1938 and a factory - the Cyfarthfa Works was erected in 1939 at Merthyr Tydfil, Wales to employ 600 mainly skilled workers which was part of the drive to regenerate the area. By 1940 the company was advertising for workers for important war work presumably in the production of armaments although whether this factory ever produced sewing machines is not clear.

In early 1951 BSM Ltd, a subsidiary of Imperial Continental Gas Association made a bid for the Jones'Sewing Machine Co Ltd and by the following year had taken over Vickers sewing machines. By Aug 1953 the Vibrating Shuttle machine was designated the 7a and a new central round bobbin machine the 3a, had been introduced both were available as hand or electric machines.

By 1955 over 250,000 sewing machines had been made principally for export. BSM's Head Office was at Lombard Road, Morden Road, London SW19. The Managing Director was Reginald Graham V.C. and the General Manager was G. A. Lister. The last advertisment for the company I have found was for May 1956.
---
Vickers Modele De Luxe: Serial No. C1-15065.

The Modele de Luxe was introduced in 1919 and this machine was probably made around 1920.

The centre decal has a V inside a crown.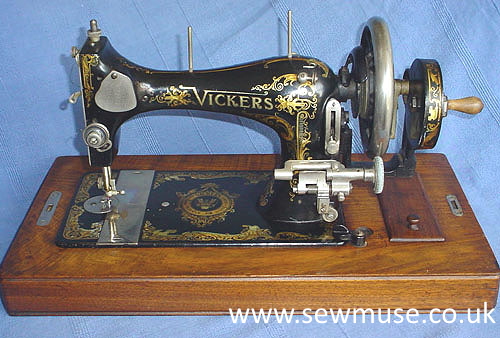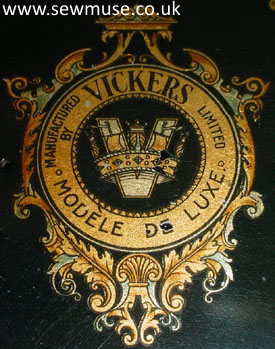 ---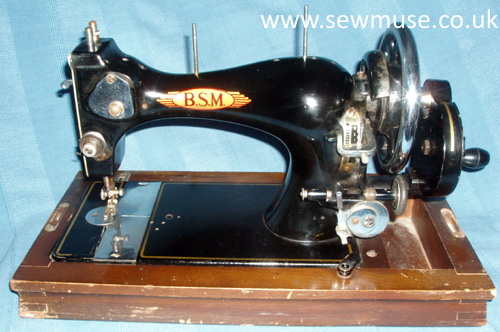 BSM: Serial No. 7/009021.

Made for British Sewing Machines Ltd, London by Vickers in the early 1950's, this model was also produced with a white, blue or yellow body. Early production examples carry the Vickers name as well as the B.S.M. logo.

This machine is in reasonable condition but has long since lost its cover, the machine was designed so it could be used as a treadle with holes in the base for the treadle belt to pass through. Over 32,000 of this model were produced.