---
Bruno Naumann started producing sewing machines in Dresden in August 1868 but lacking capital to develop his machines he was joined by Emil Seidel and in 1872 Seidel & Naumann came into being. Although the partnership was short lived with Seidel leaving the firm in 1876 the name remained unchanged.

In 1898 the Company employed 2,500 workers producing 80,000 sewing machines and 40,000 cycles a year. By 1904 production of sewing machines had increased to almost 100,000 a year and had produced a total of 2 million machines.
In 1900 the company started producing typewriters which eventually became the main stay of the company's products.
---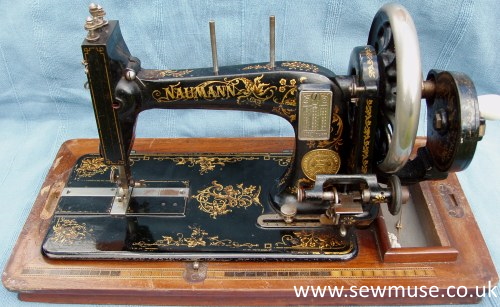 Seidel & Naumann: Serial No. 1418722.

Manufacturered by Seidel & Naumann in the 1890's and sold through the Company's depot at 24, Moor Lane, London. It is a transverse shuttle machine and has the needle size plate on the shoulder that seems to appear on Seidel and Naumann machines.

This type of machine was still being produced at the outbreak of World War 1 and is illustrated in Gamages mail order catalogue of 1914 by which time Seidel & Naumann had produced over 3 million machines.
---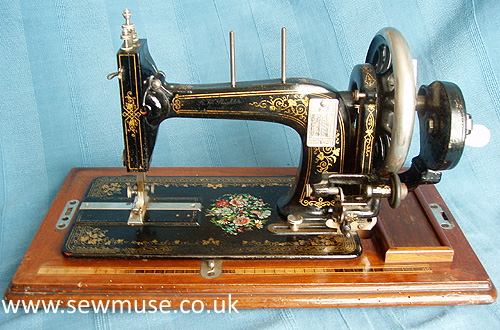 Seidel & Naumann: Serial No. 1761676.

Believed to have been made by Seidel & Naumann but labeled for R. W. Righton of Evsham who's name can just be made out on the arm.
Apart from some rubbing to the front edge this machine shows little sign of wear & features a lovely bouquet of flowers. Like many German made machines there is an inlaid ruler to the front of the base.
---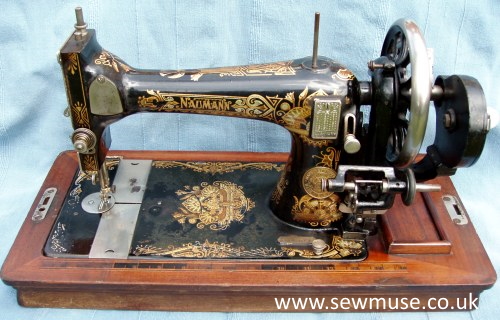 Seidel & Naumann: Serial No. 2107675.

Manufactured by 'Siedel and Naumann around 1905 and sold through the Company's London depot at 23 Moor Lane E.C.
This Vibrating Shuttle machine has Egyptian style decals and Naumann on the arm. The wood base has the typical inlaid ruler along its front edge

See the Cases & Bases Page