---
Georg Michael Pfaff started producing sewing machines in 1862 in Kaiserlauten, the firm was successful gradually increasing production and by 1890 about 500 machines a week were being produced. A new factory was opened in 1902 and in 1910 the firm produced its 1 millionth machine. In 1926 Pfaff became a Limited Company. After the Second World War the Company continued to expand producing its 5 millionth machine in 1950 and in 1957 it aquired Gritzner-Kayser. The company has continued to innovate and develop new designs introducing 5 new models in 2014

To find the date of manufacture of Pfaff sewing machines manufactured between 1862 - 1975 click here
---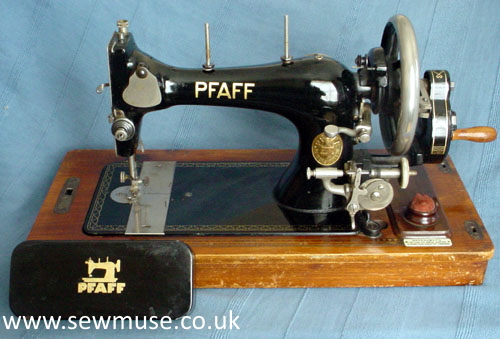 Pfaff 11: Serial No. 1816130.

This attractive vibrating shuttle machine was donated to our collection and came complete with original accessory tin. It is in excellent condition and dates to 1924.

The accessory compartment cover swivels and has a pin cushion. The small plastic plate next to it reads Greenaway's, 5 New Inn, Hall Street, Oxford.
---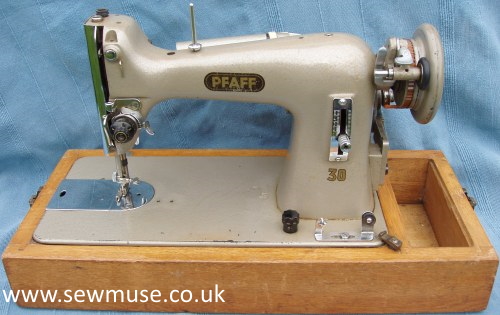 Pfaff 30: Serial No. 6174 197.

This machine was made between 1957 and 1958. It is a Central Shuttle machine and has an electric motor and light. The beige paint has a "hammered" finish.

The two tone case is made from plywood with latches at each end. It came with metal accessory tin which has Pfaff embossed into the lid.