---
Nothmann Brothers operated from Kaiser-Friedrich Street, Berlin from 1878 to 1909. In October 1891 the company appointed Ernest Rausnitz as wholesale agent for Great Britain with an office at 56 Doughty Street, London. Within a few years the agency moved to 184 Aldersgate, London.

The company was producing High Arm Family machines as early as 1891 and introduced a Rotary Shuttle model in 1895. In the same year the company started manufacturing bicycles.

The Company was reportedly taken over by Frister and Rossmann in 1912.
---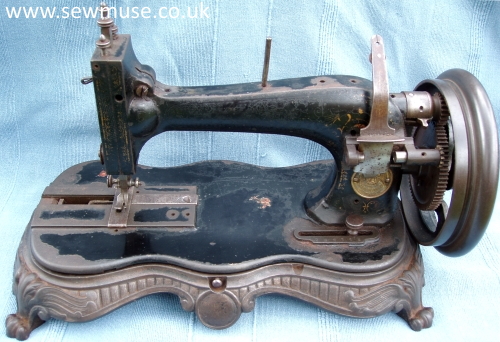 Nothmann: Serial No. 287112.

This fiddle base Hand crank with a highly ornate cast base was manufactured by Gebr. Nothmann c1897.

The decals are virtually gone but were originally small roses. Note the position of the bobbin winder which is driven off a straight cut gear - we don't think it's supposed to be that shape!
Unfortunately it is missing a slide plate and its shuttle.
Thanks to Graham Forsdyke for information regarding this Company.
---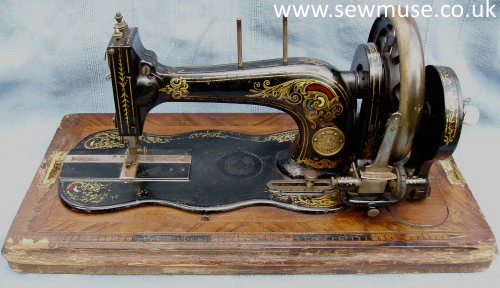 Nothmann 'Nuttallia': Serial No. 344374

Fiddle base Hand crank manufactured by Gebr. Nothmann of Berlin. The name on the arm is just visible as an impression in the varnish as 'Nuttallia'. It is a transverse shuttle machine with the inlaid ruler to the base and porcelain handle typical to German machines. The decals are quite worn being a golden scroll with decorative green and red areas.