---
In 1871 L.O. Dietrich, H. Köhler and G. Winselmann had started making sewing machines under the name L.O. Dietrich & Co. at Altenburg, Germany. In 1877 Köhler and Winselmann left to establish their own company. Then in 1892 Winselmann left to form his own company taking many workers with him however Hermann Köhler successfully continued to produce machines.
---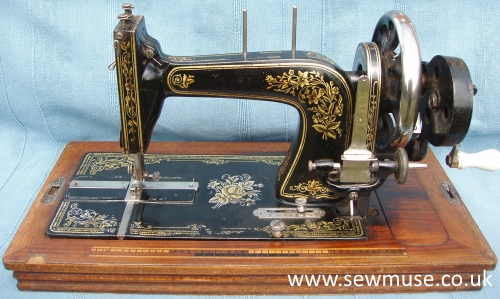 Tryer: Serial No. 1339995.

This machine was made by Hermann Köhler of Altenburg in the late 1890's.
The name Tryer is just visible on the arm of of this machine, which is typical in appearance of this class of machine with porcelain handle and inlaid ruler incorporated into the base. The decals are in very good condition but the varnish has discoloured.
---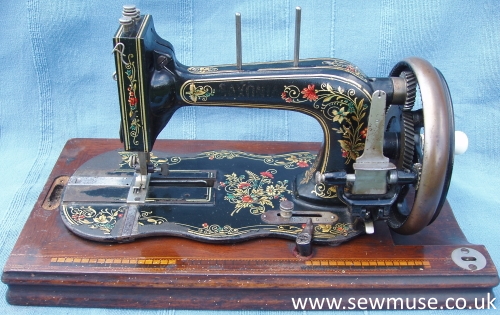 Saxonia: Serial No. 1282195.

Fiddle base hand crank with a geared mechanism recessed into the base, although it has no makers mark it has been confirmed as being made by Hermann Köhler as an identiical machine has the Köhler Trade Mark on the reverse of the pillar.

The machine itself is in poor condition with part of the japanning on the bed missing, but the decals on the arm and shoulder are still bright and we think it is a lovely machine.

The case of this machine is shown on the Cases & Bases Page

Many thanks to Teresa Withycombe who confirmed the manufacturer.
---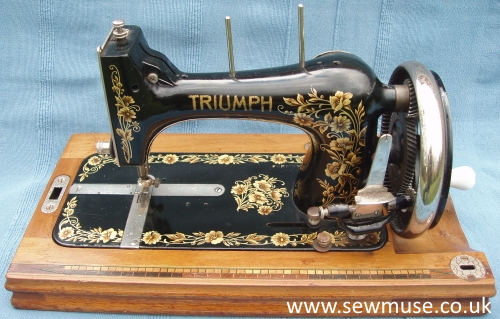 Triumph Serial No. 1693275.

Apart from the decals this machine is identical to the one below which has been attributed to the manufacturer Hermann Köhler. It was probably labelled "Triumph" for a retailer.

The flower decals are still in very good condition, the word Foreign appears on the bed behind the pillar. The plating is pitted in places.

Note the recess in the base for the hand crank and the inlaid ruler. The bobbin winder is directly driven from the gear wheel.
---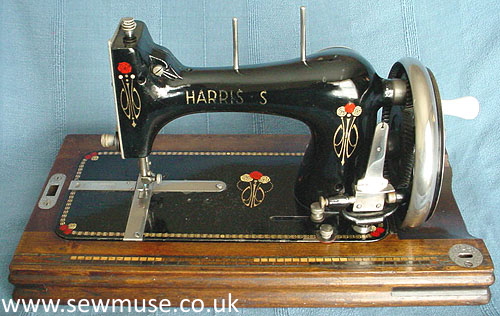 Harris 'S' Serial No. 1783497.

Although there is no manufacturers mark Hermann Köhler produced a V. S. machine with a virtually identical decal. This machine is labelled for W. J. Harris & Co. Ltd which was a large London distributor.

Dating to around 1930, the stylized roses are typical of the Art Deco style.