---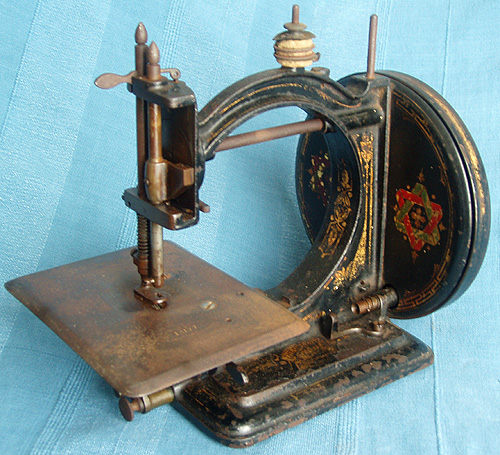 The Gresham Serial No.18177.

Manufactured by Heron, Gresham & Craven, Craven Iron Works, Ordsall Lane, Salford, Manchester. The Company was founded by John Spier Heron, James Gresham and Thomas Craven in 1869.

As well as sewing machines the company manufactured a Patent woven wire mattress, Improved Giffard's Injectors for steam boilers, vacuum brake and other equipment for trains.

Due to ill health J. S. Heron left the company in April 1875 and the firm became known as Gresham & Craven. Later c1879 a Singer principle machine known as The Heron was produced.

Sewing machine production ceased c1884 and the firm concentrated on other engineering projects.

This machine was probably manufactured c1873. On the cloth plate is stamped Patent March 1867 Heron Gresham Craven followed by the machines serial number. The needle bar is open and the lever on the base operates the reverse stitch mechanism. The base decal reads The Gresham and has the letters H,G,C intertwined with Manchester beneath.
The company re engineered the machine and produced the Improved Gresham, which is known to have been in production by 1873 although production of the Gresham continued.
This machine is not in particularly good condition and we would like to replace it with a better example. If you can help please Contact Us
If you found the information provided on this website helpful why not make a donation to help support the preservation of additional machines and assist in further research? Donations can be made quickly and easily in most currancies through PayPal just click on the link below.
Sewmuse is not a charity and receives no grant aid or other such funding.
Important Copyright Notice
If you would like to use any of the material contained in the sewmuse website please use the contact button at the top of the page.

ALL material on this web page is the copyright of David Best. All rights are reserved. No part of this web page shall be reproduced in any form without prior written permission.

ebayers please note your auctions WILL be terminated if you breach the copyright.