---
Nikolaus Dürkopp & Karl Schmidt started making Wheeler & Wilson principle sewing machines in Bielefeld, Germany in 1867.

By 1876 the firm had grown considerably and Richard Kaselowsky became a partner. Over the years the company diversified bicycles were produced from 1880 and later motor cycles, cars and commercial vehicles - including buses were manufactured.

In 1892 the company was producing 50,000 sewing machines a year and by 1898 this had increased to 66,000. In the 1930's the company ceased producing domestic sewing machines instead concentating on industrial models.
---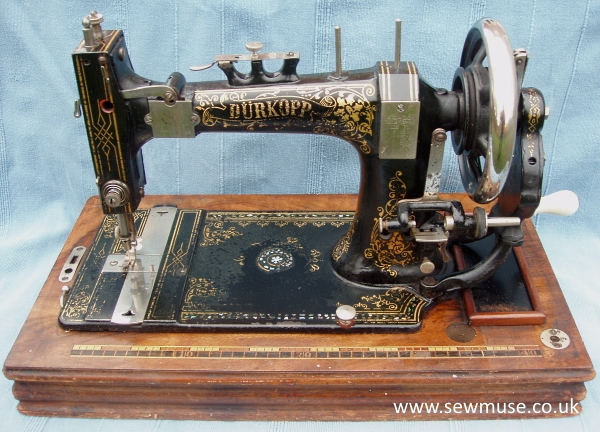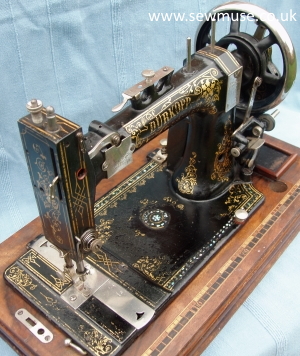 Dürkopp V.S.: Serial No. 88422.

This is a rare example of Dürkopp's vibrating shuttle machine probably produced in the 1890's. There is no company Trade Mark but "Dürkopp"
is clearly visable on the arm. The bed is inlaid with Mother of Pearl chips. The overall design of the head is similar to that of the White V.S.
The top of the pillar is angular with the bed shaped to take the wish-bone mounting for the hand crank. The machine has leaf tension and the lever for the shuttle eject mechanism can just be seen at the end of the bed. Unusually the stitch length adjuster is at the rear of the pillar.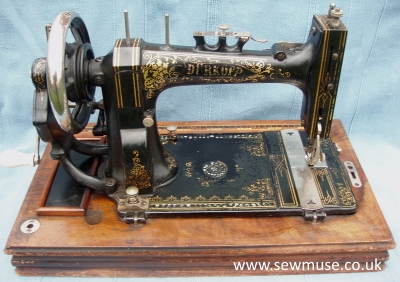 The machine uses a hybrid shuttle the side of which opens.

The deep wooden base has an inlaid ruler and accessory compartment with slide lid.