---
The Busy Bee Sewing Machine Company, 5 New Street, Worcester was established by Alfred M. Baylis a printer and bookbinder around 1871. By late 1879 the firm was selling off its remaining stock of Busy Bee machines.
---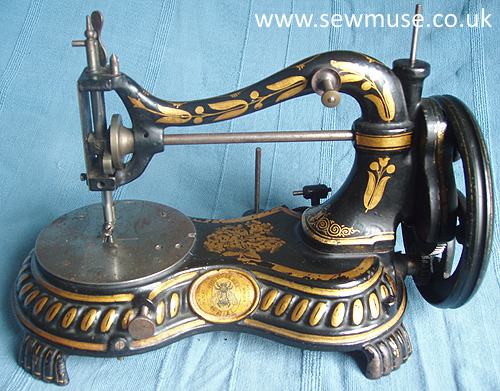 The Busy Bee Serial No. 4267.

This machine is in excellent condition and has the Willis & Rice automatic bobbin winder patented in 1866 by Henry Willis and George Rice which was designed to ensure bobbins were evenly wound.

There was no facility to disengage the balance wheel during bobbin winding and Alfred Baylis advertised this as "the only machine to wind its own thread while the machine is stitching".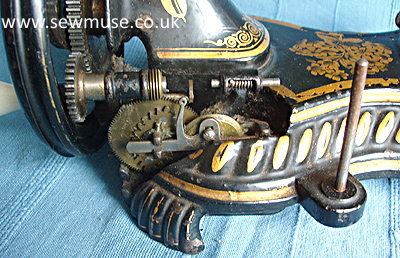 The needlebar cover is stamped with the company name and address together with the machines serial number 4267. A second serial number 19986 appears on the casting under the slide plate. This leads us to believe the company may have had the castings manufactured by another firm possibly The Royal Sewing Machine Company, Birmingham and then the machines were assembled at Worcester.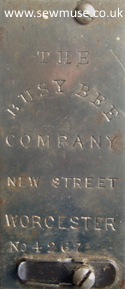 The company Trade Mark - a bee clearly visible on the cartouche between the raised gadrooning on the base.

This machine was kindly donated to the collection by Florence Taylor, Drybrook, Forest of Dean, Gloucestershire and we are most grateful to her relatives Brenda & Gerry Cinderby.